Mindful Moments for Teachers
The Education Centre network ESCI (@ESCITWEETS) with Breathing Space Ireland (@BSPACEIRELAND) would like to continue to support Teachers during this difficult time.
Ignite Your Light Podcast Episode 4 - "Between the Darkness and the Light"
Here is the link to Soundcloud
https://soundcloud.com/user-712781301/esci-ignite-your-light-episode-4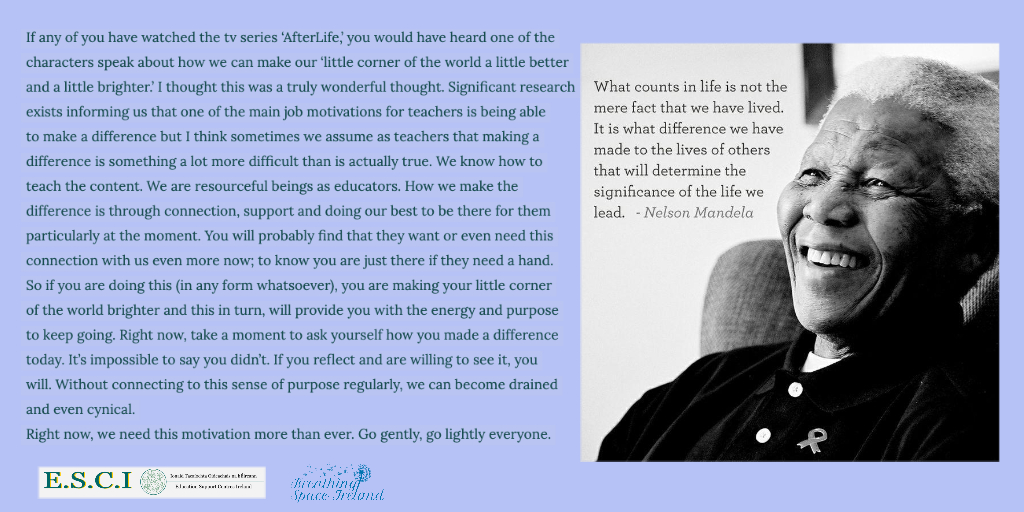 View Guided Video HERE
We are all very busy at the moment so I encourage you all to take a few minutes as we cannot look after everyone else if we don't look after ourselves first. View guided video HERE.
View guided video HERE.
View guided video HERE.
View guided video HERE.
View guided video HERE.
View guided video HERE.
For today's moment, I invite you to pause and breathe and allow your senses to bring you into the present.
Can you notice what information your senses are bringing to you right now? What sounds are around you, both inside and outside of the space you are in? Can you notice your two feet; their weight on the floor? Can you notice what you can smell right now? Taking a long deep conscious breath in now and as you breathe out, notice what it feels like for the body to rest in this way.
In the past three weeks, you have worked incredibly hard. You have been teaching, or supporting pupils/students and families online. You have probably being using new Apps and creating lessons and plans online that have required huge amounts of your time and energy. You may have been doing this whilst taking care of your own family. You have also been attempting to navigate your way through an unprecedented situation that you have never before experienced, which has brought it's personal challenges and anxieties. You have probably being supporting others on top of all of this, along with worrying about your own health and the health and well-being of your loved ones. So now my friends has come the time to rest. Now is the time to give yourself permission at the end of this day to rest, relax, restore and renew. Maybe it will only be for one evening, maybe it will be for two days, maybe you will take time for the two weeks over Easter.
As a teacher or school leader, you are infinitely resourceful, but you do not have infinite energy. Your energy depletes when working is not matching with resting. Resting is as productive as working as we are restoring what has been lost so we can work and teach again. As we sometimes hear in the primary classroom 'múinteoir, an bhfuil cead agam...?!'...you know what comes next! So an ceist atá ann anois...'an bhfuil cead agam sosa a fháil?'....except this time it is only you who can give this permission to yourself!
Rest. Restore. Relax. Renew. Stay safe and well everyone.
For today's moment, you might want to have a pen and paper beside you (if you wish). Let's pause and take in a nice long deep breath. Let it out and release any tension that may have built up from the morning so far; in your stomach, back, shoulders, arms...any part of your body that feels tight or uncomfortable. Repeat this gentle breathing a couple of times.
Now let's meditate for a moment on the following....what is it about this time at home and this crisis that you may see as a positive? Is there anything? Maybe there isn't. Or maybe there is. If there is anything that you feel you have enjoyed about this time, could you pause and breathe, and notice what that is? Allow it to float up inside you rather than force it. Could you jot it down on your piece of paper? Is there something that you feel you have learned? Compassion for yourself or others, or both maybe? What is it that you have learned? Could you write that down? Is there something that you feel deeply grateful for as a result? A sense of community that has swelled up in the midst of crisis maybe? The simple pleasures that can be enjoyed each day? Take a moment to write this down.
Is there something, moving forward when this crisis passes, that you wish to change about your life? Maybe there isn't. Maybe there is. If there is, what is it? A slower pace? To spend more time with family? To be present a little more? If this is different than what you have written above, then write it down too. Look at what you have written. Place it somewhere you will see it to remind you. Maybe just maybe there is some learning in all of this. Maybe we can take a new step forward when the madness has ceased....a step that allows us to go a little lighter and a little gentler with ourselves.
Stay safe and well everyone.
At the moment, you may be experiencing varied emotions from one minute to the next. One minute you are feeling optimistic and positive about the situation and out of nowhere may come a sense of dread and anxiety. You may feel grateful and then all of a sudden be filled with fear. This myriad of emotions may feel unpleasant and confusing but given the circumstances, is perfectly normal. The brain is attempting to find solutions to an unparalleled set of circumstances and so it is on one hand, stuck in a 'stress response loop' ensuring survival which means we experience fear and possibly anxiety. On the other hand, it is looking to find solutions within calm, compassion, kindness, gratitude and hope but due to the over-activation of the stress response, isn't always going to trust in such solutions being enough. This is why there is a jumping back and forth of feelings.
In today's Moment, let's pause and breathe. Let's offer our brain and body the space in this moment to calm this stress response and move into the other 'solutions' such as calm and compassion for self. We are only human. These responses are normal. Let's notice our feet, and take a long deep breath in for a count of 4, and exhale slowly for a count of 5. Repeat this a few times. Adrenaline is draining from the bloodstream now and the calm 'reset' button is activated. Add a cup of tea or coffee as desired!
Stay safe everyone.
Never ever underestimate the power of our thoughts and words on our emotions and on our bodies. We have been attempting to adapt to these surreal and ever-changing circumstances for the past few weeks and on Friday, further flexibility of an already confusing and worrying situation was asked of us. We knew it was coming and we know it's for the best, but with further restrictions in place, it is perfectly understandable that our brains may be even more 'scrambled' and we do need to take time to adapt once again now.
So maybe take a few moments right now to consider the language and words you are using in your self-talk and in your talk with others around you in relation to the 'lockdown'. This word alone can have an adverse affect on the brain and can send it straight into stress response. So as always we begin by returning to our breathing to calm this response, taking nice long conscious breaths in and out. Next just notice what is being brought to you right now through your senses (what you can smell, touch, hear, taste and see in this moment). Once you have been mindful in this way, consider the words 'lockdown' and 'stuck at home'. Now try changing them to the words 'secure' and 'safe at home'. Notice in your body the physical response to the latter. Taking care of your thoughts and words means that you are taking care of yourself and your responses.
Stay safe everyone.
What a strange feeling it is to not have that 'Friday feeling' today. You may be feeling the days are rolling into one, with the weekdays rolling into weekend days. As teachers, that bell on Friday signifies an ending of a week and the beginning of hopefully a break or a rest for the weekend. This lack of predictability, along with news reports of increasing cases of Covid-19 may be pushing your brain into a fearful space. This is perfectly normal as fear can spread as fast as the virus. But so too can lots of other more positive emotions if we allow them to.
So take your midday moment to pause now, take in a deep, long conscious breath. Repeat this a couple of times, notice your feet on the floor and 'reset' yourself. Even go make a cuppa and do some mindful window watching (being present to what you can see outside right now; colours, shapes, noises, smells). Remember, just like the virus, the next person you come in contact with (virtually or in person!), you will be 'passing' this calm onto them. So taking this moment has not only reset your disposition but has helped someone else too and so it goes on and on. We may not have much control right now, but we can make this choice at least. Hoping that you will take the time for some rest and play this weekend (and yes it is the weekend!)
At the moment, it can be easy to fall into a mindset of wishing that things could be different. But it's also a time when we can come to appreciate and be present to the smaller more ordinary things; the ordinary becomes the extraordinary...a hot, frothy, much needed cup of mid-morning coffee to be relished, soaking up the rays of spring sunshine through the window, sweet bird-song that went unnoticed in the midst of the school schedule or the simple pleasure of fresh clean sheets on the bed at night. Take a moment right now to look around and notice what sensory experience is right at your hand and enjoy
.
Pause what you are doing, find a comfy chair or lie down. We all need a moment in our day to pause and breathe, especially at the moment, so let's do that now. View guided video HERE.
Welcome to your 'Midday Moment' - a space where we invite you the teacher or school leader to take a breath for yourself once a day whilst you navigate your way through the current circumstances which have left us with a new reality to adapt to, for the moment anyway.
As teachers, we mostly love routine and there is a great sense of security (even if we don't always recognise it!) in predictable schedules, bells calling us in and out of class, and terms that begin and end like clockwork. In stark contrast, this is a time of uncertainty which along with online teaching pressures, family commitments and other concerns can bring stress, worry and even anxiety to the fore for many of us.
So each day, we invite you to link in at midday to pause, breathe and just be; we will offer a quote to consider or a mindful moment to engage with; maybe even plan to have a cuppa at that point in the day so that it can become part of your new routine. Each Wednesday then, I will invite you to engage in a short mindful practice via video so that you can take a few more moments for yourself. Never before has self-care been so important, not just for ourselves but for our loved ones and the community around us.
For today, let's pause, take a long deep conscious breath and consider a different kind of 'to do list'.