Junk Kouture September 2023
Interested in the next competition kicking off in September 2023?
Junk Kouture is open to all post-primary students aged 13 – 18 across the Republic of Ireland and Northern Ireland.
OVER 1,200 SCHOOLS HAVE SIGNED UP, IS YOURS NEXT?
To Register Your School for 2022-2023 Please Click Here
THE BRIEF
Look around you and get creative! Everywhere you see waste, there is opportunity! Recycled materials tell stories, and also make for fabulous fashion and bring creativity to life! A design can be crafted into any style of wear- from glamour to theatrical. The only really important rule is that your deign is made from 100% recycled materials! Be brave, take chances, experiment, and push the boundaries! We vision a cleaner and more sustainable environment. Show us your dreams of the future, show us these through design!
WATCH AGAIN…
The Junk Kouture Grand Final 2021 Powered by RTE on
RTÉPlayer
COMPETITION RULES
Junk Kouture Grand Final:
Wexford exchange student's 'Iconoclastic Fantastic' lands 2021
https://www.independent.ie/style/fashion/junk-kouture-grand-final-wexford-exchange-students-iconoclastic-fantastic-lands-2021-prize-41136055.html
Enniscorthy student Alicia Rostermundt (17) wowed the judges and was crowned the winner of the 2021 Junk Kouture Grand Final this evening.
Alicia, a German exchange student at Coláiste Bríde, Enniscorthy, Co. Wexford, impressed the judges with a gender-neutral creation inspired by Jean-Paul Gaultier and Janelle Monáe made from seatbelts and a second-hand trouser suit.
Her design 'Iconoclastic Fantastic' reigned supreme over 39 other designs to be crowned the winner of the 2021 Junk Kouture Grand Final Powered by RTÉ.
Inspired by iconic designer Jean-Paul Gaultier and singer Janelle Monáe, both known for their influential androgynous styles and non-conformist approach to fashion, Alicia's monochrome outfit was made from a charity shop find, seatbelts and an old tent wowed the judges as she became the 11th winner of the design competition.
For the full article please visit: https://www.independent.ie/
WATCH THE DUBLIN CITY FINAL 19 MAY ON RTÉ
Junk Kouture | Dublin City Final | Powered by RTÉ
The world's largest youth sustainable fashion competition is back and live in Dublin this year! The Junk Kouture Dublin City Final 2022 sees 60 finalists from post-primary schools across Ireland battle it out for their place in the Junk Kouture World Final 2022 as they model haute-couture designs made entirely from recycled materials for our Junk Kouture judges.
In a new twist, the top 10 designs from the Dublin City Final, Powered by RTE will be selected by the Junk Kouture judging panel for the World Final where they will compete with 50 other designs from Abu Dhabi, London, Paris, Milan and New York City.
**PLEASE NOTE: Our London, Milan, Paris, New York & Abu Dhabi City Finals have been rescheduled. New dates to be announced soon.
STATEMENT FROM JUNK KOUTURE – MAY 2022 Due to unforeseen circumstances, involving a number of positive Covid-19 cases across our touring team, we have
Read More »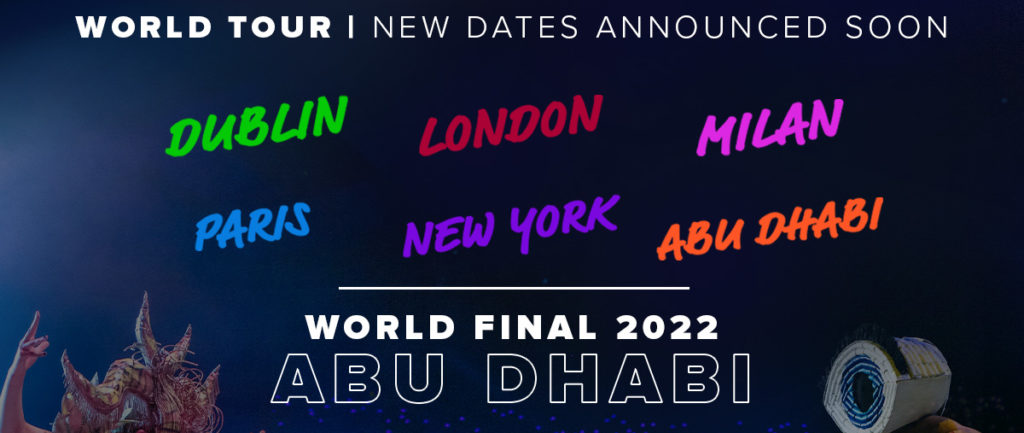 Finalists from Dublin, London, Milan, Paris, New York City and the UAE Compete for a Space at the First Ever World Final Taking Place in
Read More »
Join us for our next online, live session where you can meet the team, get tips from experienced Junk Kouture teachers and alumni, and join